Hardy
Participant
Well Elmo
The Poranui Prawnerator accounted for two of the smaller rig. But as I had a whole prawn on the hook, guess I will never know. Might slide it up the trace a bit and see how well it does on its own. Might have to soak it Prawn Juice first tho
And yep pretty good for a day time catch I reckon. That Nine Mile beach here is a rig and greyboy paradise. But it also a most loved surfing spot. Most days its around two metres. The lads paddle out right by that rocky peninsula, and on occassions I have caught a surfie, true. Rod goes over, I rush to it to strike. Surfie head comes up. I slacken off. He untangles, gives me a wave. And we are all sweet. One day I caught a real nice sheila. Was just starting to wimd her in, when buggar I lost her. In a northerly that little bay is like a placid lake, and a couple of hundred yards down the beach, the surfies are creaming the two to three metre swells. It was Rons pic I used to show where I was. I put him onto the place. But he wasnt using prawns that day.
He got into prawns at the Comp and landed about 4 rig. Was telling me so I decided right I will give them another try. Once again. They are a mission to tie on, and then if the crabs are about, they last two tics. Well not today. So I see more Rigging at the Nine Mile coming my way.
Right I will dig up a coupl;e of pics, one mine and the other Rons catch.
Pic One. Rons couple of Kahawai. I added the Captions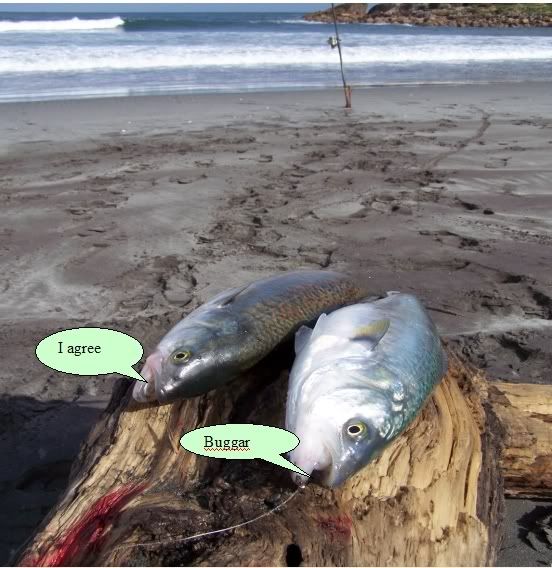 The Placid Lake. Right where I was today. Just a wee rock from the peninsula on the upper right.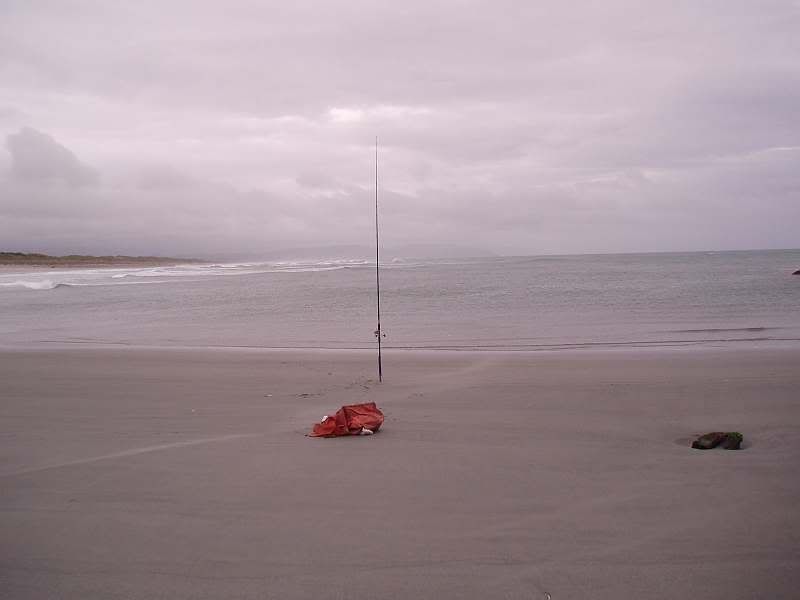 Cheers Trev